Scrap It Challenge Cross Stitch Kit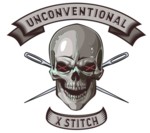 Dimensions & Information
Specifics
Give the Scrap It Challenge a go, and help reduce landfill while you are at it! We really wanted to make sure as little went to waste as possible with fabrics, but often we end up with pieces that are too small to sell and would otherwise go to the bin. So we thought, why not create a 'scrap' challenge out of it. We put together neat little kits, which come with a variety of random counts and finishes of fabric, a hoop, 6 JJ needles, 7x normal skeins and 1x speciality skein (there will always be 1x white and 1x black in the mix), 1x 32mm random stitch meme themed needle minder, and a page of 5mm gridding to put your own design on it. You can create your own design, and then stitch as much or as little of the provided fabric as you'd like. Perfect little travel sized projects, that encourage and get those creative ideas flowing!

To show off what you've made, don't forget to use the #UXSScrap and you might get featured on our Instagram account!
Fabric:

random count and finish (aida/evenweave/linen in 14/1618/25/28/32ct plain or easy count) and random piece of fabric in size. Zweigart brand.

Floss:

DMC stranded cotton, 8x total. 7 normal colours, 1 speciality colour (eg variegated) chosen at random

Hoop: 15cm bamboo hoop
Needles: 6x John James
Needleminder: random cross-stitch meme themed 32mm magnetic minder
Grid Paper: single sided 5mm gridding A4 page
How do I get my hands on these kits?
Click add to cart

Carry on shopping and adding to cart OR click check-out

Follow the prompts

Wait for shipping notification