Unconventional X Stitch Secret Santa 2020 cross stitch patterns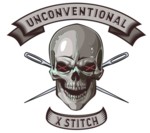 The 2020 Secret Santa is here! This year you will receive for the one price:
1x pick from your top 3 favourite designs

1x early release design, available for download after purchase of this listing (you can view it in image 2)

1x entry for a random name pick to receive a $20 store credit (you can get more entries by purchasing additional secret santas).
To learn how it works, please read on!
STEPS
Ensure you buy this listing on or before the 19th of December!

Be sure to enter your favourite 3 design titles (eg Masquerade BR cross stitch pattern, In Death cross stitch pattern, Toy Boy cross stitch pattern) in the available text box that you will find above the description. You will be prompted to do this before you can check-out or add to cart.

Please either continue shopping, or proceed to the check-out.

On the 20th you will receive an e-mail with who your partner is as well their 3 picks (we only disclose your picks and first name to your partner).

On the 24th, all designs will be e-mailed to your e-mail address associated with your Unconventional X Stitch purchase.
Important Dates for your Diary
December 19th - Last day to participate

December 20th - You will receive an e-mail with who your partner is and their picks

December 23th - Last day to get in your pick for your partner

December 24th - Expect your e-mail goodies!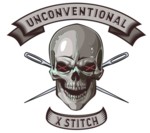 We provide unique hand made products that are innovative and world leading

We blow our competition out of the water, providing up to 5 patterns for the one price which can save you over $60 upfront

We don't use the original artwork in our images, we believe in being transparent in what your finished work will look like

We are stitchers too and we stitch what we make so we know the products are solid

You are safe when you shop with us, we carry the Geotrust Seal, just have a look in the bottom right hand corner to see it

We are trusted by thousands of satisfied customers

We provide more bang for your buck than any of our competitors

We are transparent and honest

We are easily contactable
© Unconventional X Stitch