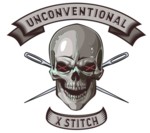 2020 Unconventional X Stitch Mystery Door
Welcome to our 2020 Random Minder Drawer
How it Works
Pick which drawer you would like.

Check out

Wait for your needle minder to arrive and see which you got!
What is behind each door?
A minimum of one hand made needle minder from the 30x40mm resin needle minder collection valued at $13, up to a hand painted valued at $20. It might be black finished, it might be hand painted, who knows! Some drawers will contain bonuses like a skein of floss or a floss threader!