Secret Santa 2022 cross stitch pattern exchange
Information
Welcome to the 2022 Unconventional X Stitch Secret Santa event. The Secret Santa exchange is open to all account holders on our website! The Secret Santa Exchange is a fun way to share in the spirit of Christmas and help a fellow stitcher pick out their favourite pattern. To learn how it works, please see below:
1. Please make your selection of up to 3 different patterns available on our website, that you would like to receive. Then proceed to check-out.
2. You can download your FREE Rise of the Phoenix pattern at any time you desire! This pattern is on pre-release exclusive to Secret Santa participants only and will not be released to the general public until 2023.
3. On the 20th of December, you will receive a message from us, which will detail your partner (only their first name will be given, no other private information will be shared with your partner) as well as their 3 pattern picks. You then get to pick which your partner is to receive.
4. On the 24th of December, you yourself will receive a special invoice. This invoice will detail the pattern you have been given. Simply check it out (there is no more to pay) and then you can download your pattern!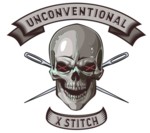 Dates to Remember (we are on GMT+8 time)
Participation will close first thing 20th of December 2022

20th of December your partner info will go out

24th of December first thing is latest to make your selection for your partner

24th of December you will receive your secret Santa pattern
This is a fun way to do secret santa. Very thrilled with my pattern, but I would be thrilled with any pattern you sell.

I am so excited with this idea to get a pattern of my 3 wish list chosen by someone else looking forward to it and the free pattern that comes with it is lovely

This is an exciting and fun exchange every year, and you are guaranteed to get something you will enjoy!