Moon Miniature Cross Stitch Kit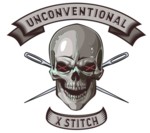 Dimensions & Information
Design Specifics
Stitch count:

62 x 62

Stitched area:
18 count aida:

3.44 x 3.44 inches or 8.75 x 8.75 cm

Number of colors:

9 colors

Brand:

DMC stranded cotton

Background:

Not stitched

Stitch types used:

Full X only
Included in your kit
18 count black aida:

30 x 30cm or 11.81 x 11.81 inches.

Skeins of genuine DMC: 9
Needle:

1x John James

Pattern: printed inclusive of all details you would find in a standard PDF download
Needle Minder: 1x 12mm needle minder, colour will vary

NOTE: Moon Mini kits do not come in our signature box.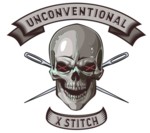 How do I get my hands on these kits?
Click add to cart

Carry on shopping and adding to cart OR click check-out

Follow the prompts (guest check out available)

Wait for shipping notification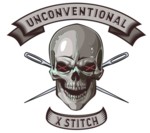 We provide unique hand made innovative products and world-leading

We blow our competition out of the water, providing up to 5 patterns for the one price which can save you over $60 upfront

We don't use the original artwork in our images, we believe in being transparent in what your finished work will look like

We are stitchers too, and we stitch what we make, so we know the products are solid

You are safe when you shop with us. We carry the Geotrust Seal, have a look in the bottom right-hand corner to see it

Thousands of satisfied customers trust us

We provide more bang for your buck than any of our competitors

We are transparent and honest

We are easily contactable
An excellent smaller kit. A pleasure to stitch and a satisfyingly quick finish. I was extremely impressed with both the quality of the pattern and the completeness of the kit. The inclusion of the little needle minder was a nice touch.