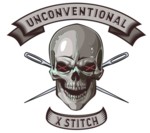 2019 Unconventional X Stitch Advent Calendar
Welcome to our 2019 Advent Calendar, the gift of giving to yourself with needle minders!
How it Works
Pick which day you would like.

Check out

Wait for your day to come around. EG. You buy 3rd December, on 3rd of December we will live stream to our Facebook Group the opening of the drawer and what is inside. The following shipping day, it will be shipped :D
What is behind each door?
A minimum of one hand made needle minder from the 30x40mm resin needle minder collection valued at $10. It might be black finished, it might be hand painted, who knows! Some drawers will contain bonuses like a skein of floss or a floss threader!
Important Notes
Any additional needle minders included in your order will not ship until your drawer is drawn.

No exchange or cancellation is applicable to the purchase of a drawer(s).

If you purchase multiple drawers in a single transaction, your order will not ship until your last drawer is drawn.

Whilst UXS will make the initial selections/designs, her family will decide which drawer gets assigned to which needle-minder to avoid bias.

What is inside the drawer will be done live on our facebook group each day. There is no set time for the drawing to happen as life can get hectic, but each days will be available from the group.

Standard shipping fees are applicable.

Contents of drawer only is included. No decorations/drawer is included in the shipment.
If you have any questions, please don't hesitate to contact us